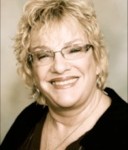 Lauretta McGowan travels with her husband, Wendell, in full-time ministry based in Las Vegas,  Nevada.    Lauretta was born in Redding, CA. and has been married to her husband Wendell since 1972.
They have 3 children, Donelle (who now resides in Heaven with Jesus). Rochelle McGowan and her Husband Mark, residing in Las Vegas, Nevada. And Wendell the 2nd, his wife, Jenni, and their sons,  Wendell III, (Trey),  Austin, and Dylan, who also reside in Las Vegas, Nevada.
Lauretta's heart is to minister to the hurting, especially ones going through tragedies that they can't seem to overcome in their lives. Since the murder of their daughter, Donelle, in 1990, Lauretta has fought to overcome the battles of forgiveness and giving everything to God through horrible circumstances. She teaches hope in the midst of tragedy, Love though impossible situations, and victory to an overcoming life.
Lauretta, lives by a quote by Helen Keller: "Character cannot be developed in ease and quiet. Only through experience of trial and suffering can this soul be strengthened, ambition inspired, and success achieved."