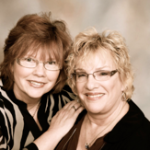 Women on Fire is a ministry and vision of Lauretta McGowan and Brenda Morrison to reach women  spreading the message and lifestyle full of vision and hope through Christ.  They have a heart to see each believer take their place in Christ and operate to their fullest potential.
The purpose of this ministry is to remove all doubt and fear of who you think you are and who God says you are.
Women on Fire has continued to evolve  and expand out of Wendell McGowan Ministries, as they have traveled with Wendell, they have seen more and more of a desire to minister directly to the hearts of women.
Lauretta and Brenda have always had hearts directed toward women to not only bring them to a place of personal healing, but to stir up their God given gifts, and cause them  to persist, pursue, and ride on the wings of eagles, instead of under the radar.
We believe it's time for our women to burn with passion.
Brenda and Lauretta are also Co-Founders of Greater Las Vegas Women's Ministries out of Las Vegas, Nevada.  Click here for more info about that ministry..
Click here for Brenda Morrison Bio
Click here for Lauretta McGowan Bio